Electrostatic Air Filters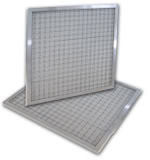 For more info, visit
HealthyHomeFilters.com
Electrostatic air filters are known for being one of the best and most efficient filters for removing dirty particles from the air in your home. Electrostatic furnace filters are at the top of the list (just under the more costly HEPA indoor air purification systems) of effectiveness when it comes to removing allergens and other harmful pollutants from your indoor air. For this reason alone, electrostatic filters have become one of the most popular filters for HVAC systems. Unlike other filter types which need to be replaced every few months, a good electrostatic filter should last decades, making it an environmentally friendly choice since it cuts back on waste. As you will read below, there are many other benefits to using electrostatic air filters. Speak to a local HVAC contractor about electrostatic furnace filters for your HVAC system.
Energy & Money Saving Benefits
A savings in energy is a direct savings of money for you, and an electrostatic air filter can provide great energy savings. In fact, it is estimated that an electrostatic filter can save up to 15% on your energy bills. This is because the filter works more efficiently, thus helping your HVAC system to work more efficiently, saving you energy and money. Another benefit is that electrostatic furnace filters are intended to be permanent rather than disposable, meaning that you save money by not having to replace your filters very often.
Why They Work so Well
Electrostatic air filters use static electricity to get the dirt out of your air. The electrostatic charge attracts tiny, microscopic household dust particles to electrostatic furnace filters like a magnet. These dust particles consist of irritants and allergens such as bacteria, dust mites, pollen, fabric lint, plant and mold spores, human and pet dander, tobacco smoke and more. Reducing the amount of "bad" air that you breathe will directly affect your health in a positive way and will tremendously benefit any allergic members in your family. An electrostatic air filter is a must for anyone with asthma.
Washability
Electrostatic air filters are washable, which is why they are usually a one-time purchase. If you purchase a good-quality filter, you should never have to replace it. A good filter can be washed hundreds of times without diminishing its electrostatic qualities. Most average electrostatic filters need to be cleaned anywhere from once a month to every few months.
Electrostatic Filters: A Lifetime Investment
Some of the best electrostatic air filters on the market today are Lifetime Electrostatic air filters. For more detailed information on these filters, check out LifeTimeElectrstaticFilter.com, where you can learn about one of the best air filtration products available.
Advantages:
100% arrestance efficiency at stopping pet dander, pollen, dust mites, plant and mold spores
97% arrestance efficiency at dust collection and control
95% arrestance efficiency at bacteria removal
Permanent, washable and easy to clean
An effective allergy and asthma relief product for your home or office
Backed by a lifetime warranty and made in the USA
Get Free Quotes

- Talk to an HVAC professional about electrostatic filters
Fill in your details and be contacted within minutes
Some of our Cities: